Using digital twinning to transform electric vehicle powertrain technology
The STFC Hartree Centre is part of a new research and development project aiming to transform electric vehicle powertrain technology.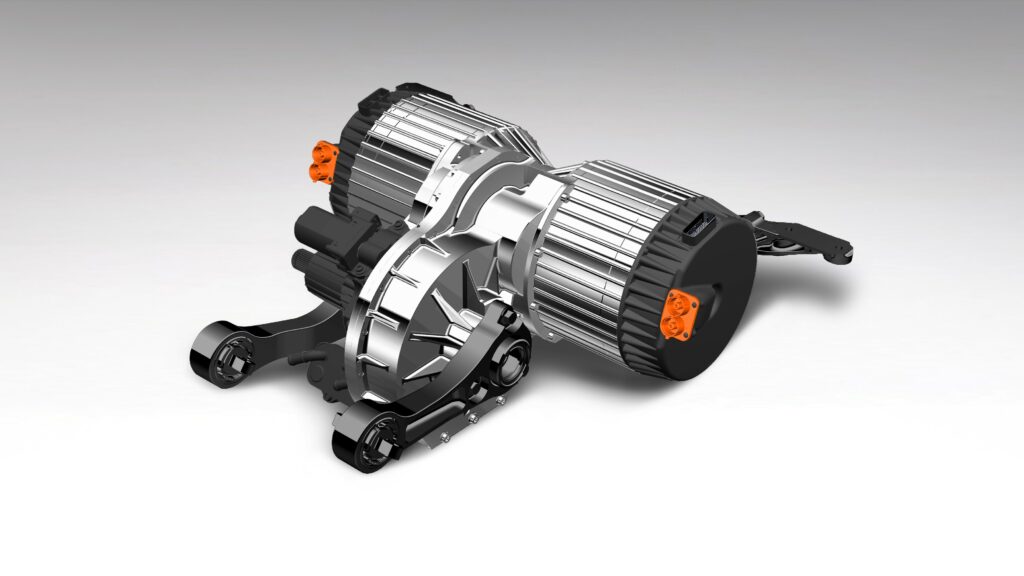 The three-year OCTOPUS Project is a multi-partner research study funded by the Office for Low Emission Vehicles (OLEV) in partnership with Innovate UK, as part of UKRI. The consortium, led by Advanced Electric Machines (AEM) and including luxury car manufacturer Bentley Motors, will collaborate to develop a new high-speed automotive powertrain – the components of a vehicle that convert the engine's power into movement.
The project aims to combine the motor with the rest of the powertrain in​ an E-axle sub-assembly (pictured) and develop several modelling tools to help with power delivery to the motor.
​The powertrain will use a fully integrated, free from rare-earth magnet E-axle that works well with electric vehicle design architecture.
The project brings together the following partners with distinct roles and responsibilities:
Diamond Light Source – UK's national synchrotron light source will provide access to X-ray facilities for measurements
STFC Hartree Centre – Advanced system testing and co-simulation toolkit development
Bentley Motors – Specification setting, vehicle integration plan and system test
Advanced Electric Machines Ltd – Motor manufacturing and systems assembly​
Advanced Electric Machines Research Ltd – Motor and transmission design
The Thinking Pod Innovations Ltd & Nottingham University – power electronics optimisation, alternative wide band gap system design
University of Bath – Integrated system analysis and test facility design
HiEta Technologies Ltd – AM components for thermal management and rotor systems
FD Sims Ltd – Next generation wire technology development
Talga Technologies Ltd – 2D materials development for next generation winding technologies.
"We will be providing a computational model that promises to transform electric vehicle powertrains. This will be a multi-physics model, or 'digital twin', of the innovative new motor and associated electronics. We will also provide the high performance computing (HPC) platforms required. The model we create will then be verified against highly accurate measurements taken at Diamond Light Source."​

Michael Gleaves, Deputy Director of the STFC Hartree Centre
Join Newsletter
Provide your details to receive regular updates from the STFC Hartree Centre.