Collaborating to deliver projects
On 8 October 2019 Business Transformation Manager, Neil Runciman and Head of Programmes, Claire Trinder went to a joint conference from the Association of Project Managers (APM) and Institute of Collaborative Working (ICW) with the theme of "Collaborating to deliver projects." They both share experiences and reflections from the day.
Claire Ward and Jeremy Campbell from the Institute of Collaborative Working (ICW) set the scene for the day with their "Delivering more through collaboration" presentation highlighting how embedding collaborative working in to organisations assists in building long term, sustainable relationships which help to deliver projects. They mentioned the House of Commons and UK Home Office had particularly been enthusiastic in their adoption of collaborative working, while also discussing reasons that collaboration can fail. Often this is due to perception of collaborative working, some see it as a selling technique or don't understand the requirements, leading to individuals acting in silos and not demonstrating the appropriate skills or behaviours.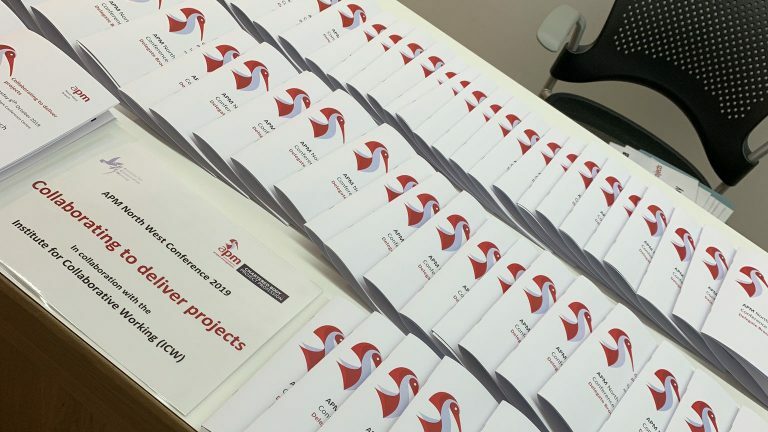 The next session was led by Ben Cross who shared lessons learned from delivering the £1.5billion A4 road programme – collaboration was key to this, not only between three main contractors but also between a myriad of subcontractors to ensure project success. Actions taken throughout the project to encourage a culture of collaboration included:
Common procurement, reducing stoppages and securing better pricing for materials and machinery
Open book reporting for all contractors
Board members for collaboration, procurement and stakeholder management
A commitment to recruit or develop excellent project leaders throughout
A common vision connecting teams to a purpose and ensuring sufficient resources and training were embedded throughout the actions above, ultimately helping the team to deliver the project to cost, with minimum traffic disruption and a low accident rate.
Next up was something a little more practical, led by John Doyle to demonstrate working towards shared objectives with shared benefits. The exercise saw us work in teams of six to design and build part-sections of paper bridges to transport a table tennis ball over three metres but using only A4 paper, sellotape and scissors! Our team enjoyed this and were successful in putting our project management expertise to the test by quickly identifying and filling the necessary roles, working well as a team and overcoming last minute obstacles while still achieving a win-win situation with both client and supplier benefitting.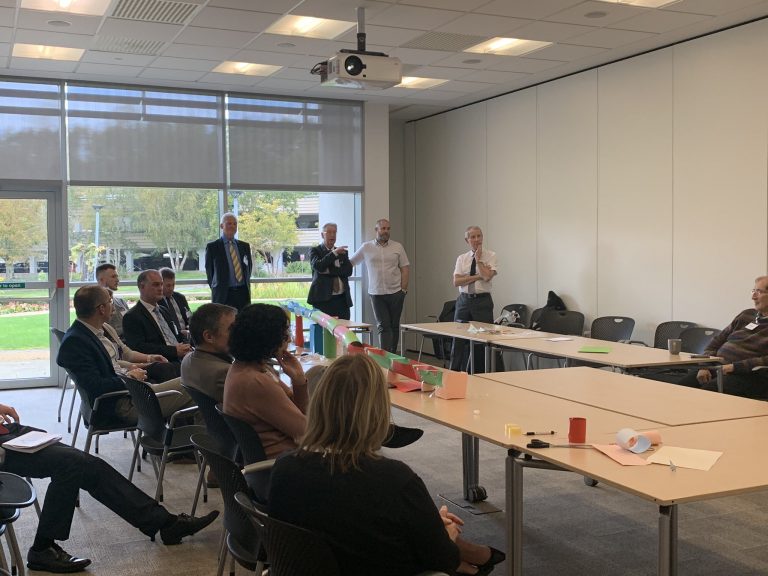 Jonathan Canioni from Warwick Business School offered an academic perspective to the conference discussions, quoting several successful examples of collaboration including 'Food for the Soul' – a programme between an established chef, the Catholic church, local markets and supermarkets in Naples to provide food to those living in poverty. Discussions continued to examples where collaboration had failed – a private banking app that misunderstood the relationship between bank and customer – when even best intentions and aligned incentives can be administered ineffectively. Key learning points from Jonathan's talk were that collaboration and coordination are bound together in a number of ways, therefore, although coordination is not quite as valuable as collaboration, it is a necessary step on the way and worth striving for if collaboration is unattainable.
"Hartree Centre places tremendous value on and recognises the benefit of collaborative work and we embed this in many ways. From multi-partner grant funded consortia, to individual collaborative research projects with SMEs or larger national organisations, to our most recent 5 year collaborative Innovation Return on Research programme which partners with IBM Research and UK plc. The workshop was a great opportunity to step away from the day to day and reflect on how we achieve our collaborations and opportunities for us to improve on these in the future. The presentations throughout the day gave great insight, especially on how to define collaboration behaviours up front and as Neil highlights, the criticality of great leadership in supporting this. I really enjoyed the practical exercise as well, although I think our session was slightly more chaotic than Neil's! However the same is often true in real life, and it is how chaos and uncertainty is managed that is also key to success."

Claire Trinder, Head of Programmes
"For me, this was an interesting day full of sharing experiences and offering new perspectives. I found Ben Cross' presentation particularly worthwhile as it offered learning points that are directly applicable to complex projects with multiple suppliers while also highlighting the wide benefits of great leadership. I would have appreciated hearing a contractor's view of collaboration to ensure a balanced view of the reality of collaborating to deliver projects."

Neil Runciman, Business Transformation Manager
Join Newsletter
Provide your details to receive regular updates from the STFC Hartree Centre.