Designing safer technology solutions for home care
We worked with Cera Care – a technology-enabled home care company – to design a safe, non-invasive monitoring solution to improve elderly care.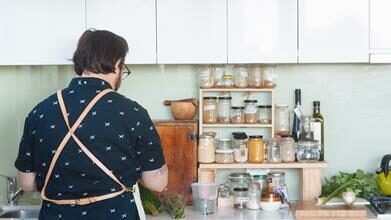 Challenge
With an ageing population and stretched resources, the healthcare sector is under strain, with the number of people aged over 60 forecasted to double by 2050 worldwide. For elderly people, remaining in their home safely for as long as possible is the preferred way of receiving care. This requires lots of resources and detailed coordination alongside potential safety risks like falls, cognitive decline or impairment. Technology solutions for home care monitoring are becoming increasingly popular to overcome these challenges. Solutions currently on the market range between simple, less intrusive, sensor-based systems that use IR motion sensors, smart plugs and temperature sensors and more intrusive camera or microphone-based solutions. The latter use advanced artificial intelligence (AI) methods to understand behaviour and status, allowing real time monitoring of patients. These require large amounts of data to be trained and present ethical and privacy concerns.​​
Approach
The team were looking to explore monitoring technologies that could adopt a 'middle ground' compared to existing solutions. Light Detection and Ranging (LiDAR) technology has been used extensively in geospatial surveying and robotics, more recently in the context of self-driving cars. It generates laser pulses and measures the reflected signal, accurately detecting obstacles and surroundings as anonymous point clouds. By pairing LiDAR with advanced AI methods and metadata about the room the technology is deployed within, it can provide a mechanism to analyse and track behaviours without intrusion. This combined approach has been tested in a 2-month pilot study across five Cera Care clients, with an accuracy in tracking clients in their homes of 85%.
Benefits
The work – completed as part of the Innovation Return on Research (IROR) programme, a collaboration between STFC, IBM Research and – represents a 'first-of-its-kind solution' in this domain. As a matter of fact, LiDAR technology has the potential to provide enough detail on a subject's daily activities while preserving privacy and ethics. For companies like Cera Care, such technologies have the potential to revolutionise how they provide in home care, allowing carers to be utilised more efficiently, whilst giving elderly patients more freedom, without reducing monitoring or compromising privacy.
"Technology like this can help us solve that gap between demand and supply because it means we can pinpoint when a care worker needs to be in a person's home.​​​"

Dr Mahiben Maruthappu, Cofounder and CEO, Cera Care
"We firmly believe that technology will enable more personalised and sustainable home care systems in years to come, and our experience tells us that individuals and caregivers are open to using it."

Dr Angsar Lange, Cera Care
Join Newsletter
Provide your details to receive regular updates from the STFC Hartree Centre.