Reducing the risk in vessel turn-arounds for ports
Researchers based at the STFC Hartree Centre worked with worked with Peel Ports Group to reduce uncertainty in available draft on vessels arriving and departing in ports using AI.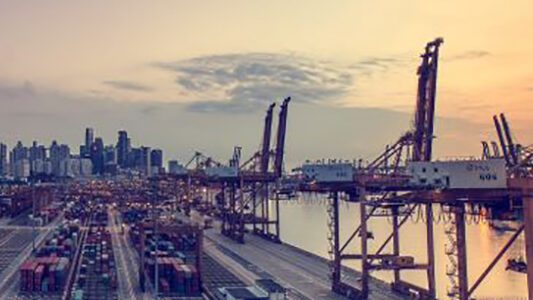 Challenge
Uncertainty and inefficiency have huge cost implications in ports as vessels that are unable to dock due to lack of water depth leaves berths and labour standing idle. For shipping companies, arriving or departing with too little cargo is expensive – an additional 10 centimetres of draft on a typical oil tanker arriving into Tranmere Oil Terminal is worth approximately $500,000 – and delays can cost up to $100,000 per day. Tide heights have been accurately forecast for many years, but they are heavily affected by weather. The difference between predicted tide and observed height, known as the surge, can differ in tens of centimetres positively or negatively with up to a 1-metre difference in a storm. Peel Ports Group were looking to reduce uncertainty around the depth of available draft to enable ports and shipping groups to optimise cargo and reduce the risk of being stuck outside a port or grounding.
Approach
The team worked to reduce forecast uncertainty up to 7 days in advance compared to existing methods that are based on the day's weather which estimates available draft based on observation. Using machine learning models to combine multiple weather forecasts – an 'ensemble' of 24 forecasts – with local tide predictions and observations of weather and water levels, to provide better estimates of the available water depth several days in advance. This technique accurately predicted available draft so that port and shipping companies can efficiently target resources. The team imagine a system that links journey plans, arrivals and departures times to available draft, weather, berth and labour availability – maximising efficiency of port operations. For example, allowing a vessel loading in Antwerp to optimise cargo for delivery in to Tranmere 3 days later.
Benefits
The technology developed as part of the Innovation Return on Research (IROR) programme, a collaboration between STFC and IBM Research, will help Peel Ports Group to better understand the uncertainty around vessel arrivals and departures across their locations resulting in risk mitigation and increasing efficiency in ports like Liverpool, Heysham and Medway.
"This has allowed us to engage with world-class technology research at the cutting edge of AI. The Proof of Concept has the potential to deliver significant efficiency improvements within the business and for our customers by enabling more efficient use of the berths and greater throughput of cargo. We have invested heavily in technology, in particular with the £400M fully automated Liverpool 2 deep-water container terminal that enables the largest vessels to call directly into the heart of the UK. Developing new solutions to increase productivity in the non-automated parts of the business is key to staying ahead in this competitive global market.​​​"

Russell Bird, Peel Ports Group
Join Newsletter
Provide your details to receive regular updates from the STFC Hartree Centre.