Sharing our work on an international stage | ISC High Performance 2018
The Hartree Centre team showcased our work through exhibitions and talks at the biggest supercomputing conference and exhibition in Europe.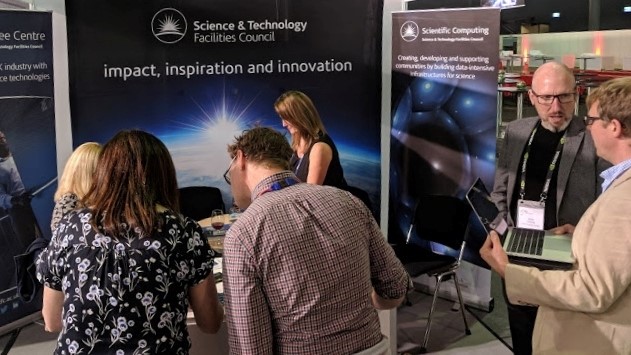 ISC High Performance, Europe's largest HPC exhibition, returned to Frankfurt this year attracting over 3200 attendees from over 60 countries internationally. The event brought together industry and research professionals using cutting edge HPC technologies for a full conference programme, tutorials and workshops.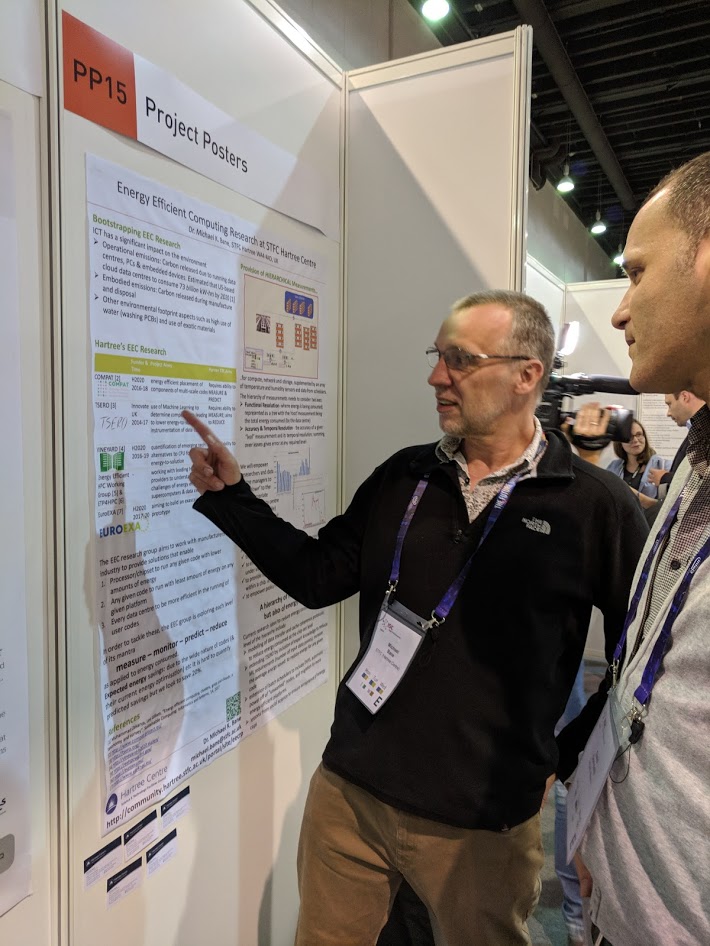 SC 2018 was one of our busiest years yet as staff from across the Hartree Centre were featured every day during the conference from sharing our perspectives in focus sessions, presenting project posters and speaking at several workshops over the week. We even won an award for best research poster in performance modelling and measurement (Cross-architectural Modelling of Power Consumption Using Neural Networks​ by Milos Puzovic and IBM collaborators Eun Kyung Lee and Vadim Elisseev​).
​Monday was the official opening of the ISC exhibition and we were delighted to welcome delegates to visit the STFC booth alongside our colleagues from the Scientific Computing Department. Our Director, Alison Kennedy shared our perspective on Cloud Computing for HPC by highlighting the importance of energy efficient job scheduling and scalability of cloud solutions to meet the needs of smaller companies without access to large HPC. An action-packed first day ended with Luke Mason discussing the latest applications of our quantum computing work at the D-Wave seminar. 
We started the industrial day at ISC by attending some fantastic presentations on Digital Twinning which covered a breadth of industry perspectives from boosts in productivity to artificial intelligence, smart data and real-time simulation. Michael Bane (pictured left) was on the BoF panel for the "Energy Efficiency for HPC Working Group" representing progress and ambitions of Hartree in this area. He also gave a poster presentation about the energy efficient computing work taking place across the Hartree Centre and shared some of our priority areas for future research.
Wednesday was the final day of the conference exhibition and we continued to welcome visitors from across the globe to our booth where we were able to discuss some of our latest projects and hear about some of the latest developments in HPC. Aiman Shaikh (pictured ​right), one of our Research Software Engineers took part in the Women in HPC poster session and was able to present her work on the DYNAMO (Dyn​amic Analysis Modelling and Optimisation of GDI engines) project. We were also delighted to receive an award for the best research poster for our work with IBM Research in using neural networks to model power consumption across different microarchitectures.​ 
Finally, on the last day of the conference, we were represented at the Women in HPC which focused on diversity across the HPC community. First our Director, Alison Kennedy spoke about addressing discrimination in the workplace and participated in a panel session covering broader issues around diversity in the field of HPC.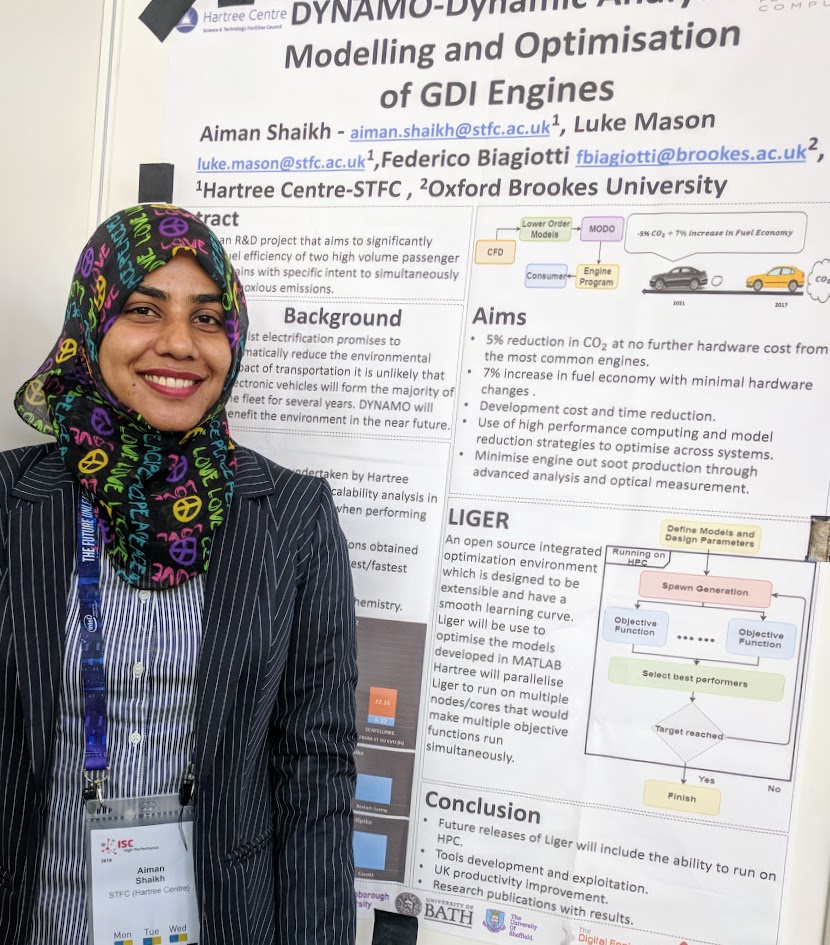 Aiman Shaikh had another opportunity to present her collaborative work on modelling and optimisation of GDI engines during the poster lightning talks and Olivia O'Sullivan talked about opportunities to make the most of a digital presence during the "Skills to Thrive" session. Sergi Siso also spoke about performance optimisations for modern many-core architectures using PSYclone-embedded DSL as part of the IXPUG workshop covering many-core computing on Intel Processors.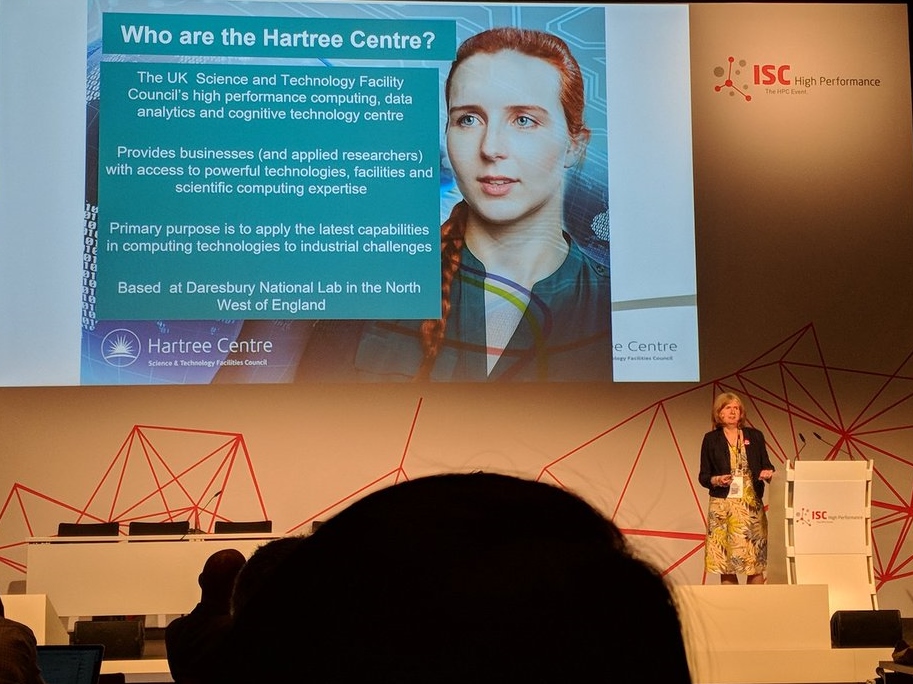 Thanks to all who came along to our talks, visited the booth and took the time to discuss our work. We're looking forward to seeing you again next year!
Join Newsletter
Provide your details to receive regular updates from the STFC Hartree Centre.