Bringing together partners from the UK water industry
On 2nd May, the Hartree Centre was delighted to bring together researchers and delegates from UK organisations interested in water resource management to demonstrate our cognitive computing capabilities and the potential applications to industry.
This workshop was held as part of the Innovation Return on Research programme (IROR) which is a 5-year collaborative programme between the Hartree Centre and IBM Research that aims to facilitate the adoption of high performance computing, data analytics and cognitive technologies by UK industry through a series of challenge-led digital transformation projects.
The aim of the workshop was to explore how our cognitive and machine learning technologies could have the greatest impact in addressing some of the digital innovation challenges faced by the water sector. This was achieved by collecting feedback on our latest research in cognitive and simulation technologies and developing collective roadmaps to identify digital solutions that bring industrial benefits.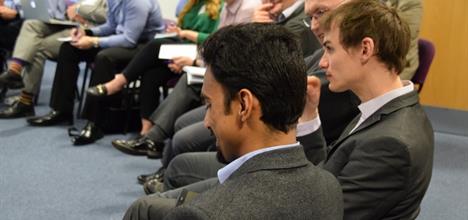 Mike Rosenfield, Vice President, Data Centric Solutions at IBM Research welcomed our collaborators at the beginning of the workshop, explaining the vision and mission of the collaboration between the Hartree Centre and IBM Research. Mike also spent some time positioning the potential impact of the latest cognitive technologies to case studies representing business challenges.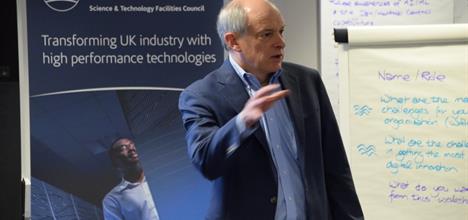 We were able to highlight how our projects that are part of the Innovation Return on Research (IROR) collaboration between STFC and IBM can be applied to solve industrial problems. Dr Lan Hoang (IBM Research) presented current work carried out as part of the IROR programme on cognitive process simulation. This work uses the power of machine learning to build control systems which can adapt to changing conditions and optimise themselves to meet industry requirements such as reducing energy use and cost. An example application of a cognitive-controlled waste water treatment plant was presented that uses Deep Reinforcement Learning to improvement management and control.
Dr Ed Pyzer-Knapp (IBM Research) talked about how to make the most out of data and the importance of extracting value from organisational datasets, specifically in creating a 'digital twin' of physical assets that can be tested to understand value and impact for the water industry. This was followed by a lunchtime networking session where delegates were given the opportunity to interact with practical demos developed throughout the IROR programme.
The afternoon workshop focused on feedback and mapping of industry needs. Delegates used some of the key points from the morning session to discuss how some of the IROR models could be applied to the water industry. This helped us to identify new priority areas for development using our cognitive computing capabilities. This will be followed up with additional meetings and summaries of the discussions presented to additional representatives from the UK water industry.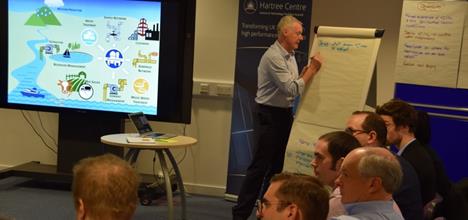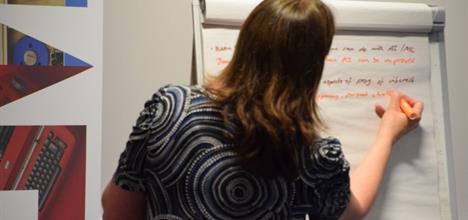 ​​Dr Angela Walsh, Hartree's Business Development Manager for IROR, said that "the day was a great success. Learning about challenges within the water industry & mapping this to Hartree's cognitive computing expertise demonstrates how well the STFC, IBM & UK industry collaboration can drive competitiveness and innovation."
Indeed a very insightful workshop this morning. Thank you @HartreeCentre for organising it.

– Raghuveer Ramkumar (@raghuveerr) May 2, 2018
An interesting day talking AI and water. Thanks for hosting @HartreeCentre

– Dan Green (@dangreeniegreen) May 2, 2018
Today we're hosting a n IROR workshop with colleagues from the water industry to get feedback on their innovation challenges & develop road maps to potential digital solutions. #industrialstrategy 

– STFC Hartree Centre (@HartreeCentre) May 2, 2018
IROR is a collaboration between STFC and IBM Research that aims to solve industrial problems and create economic and societal impact. The programme is developing a suite of digital assets which are industry relevant in the areas of Chemistry & Materials, Life Sciences, Engineering & Manufacturing and Enabling Technologies. Businesses engage with IROR as partners through projects that validate and shape the capabilities of our digital assets
Join Newsletter
Provide your details to receive regular updates from the STFC Hartree Centre.