Improving energy efficiency across water treatment plants
We worked with South West Water using data science and machine learning techniques to improve the energy efficiency and performance of water treatment plants through STFC's Bridging for Innovators funding programme.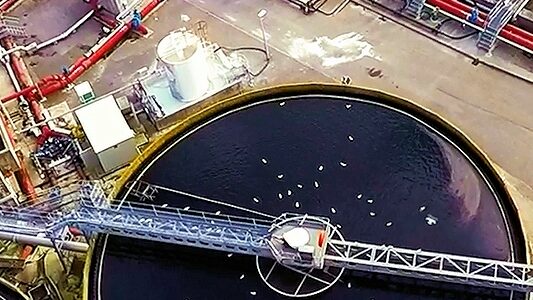 Challenge
South West Water (SWW) manages various types of water treatment plants including pumping, sewage treatment and water purification. The plants are based across a large geographic area in the South West of England. Due to the nature of the water industry, each plant is unique and has been designed to fit the nature of the environment it is located in. This brings a significant resource management challenge in terms of identifying the areas where change can yield maximum improvements. SWW wanted to look at new techniques for improved comparison between water treatment plants to help improve plant performance and energy efficiency.
Approach
The Hartree Centre's data science team worked with SWW's data to build a machine learning model which allowed forecasting of site energy consumption under particular conditions. They went on to use time series techniques to extract long-term trends in site energy use, and developed a set of metrics to help SWW make a fair comparison between sites. The team also were able to explore energy use data for individual equipment and identify whether the sub-meter totals were consistent with site-wide metered use.
Benefits
SWW are now integrating the forecasting tool in to their existing systems, the metrics have enabled the company to benchmark sites, enhancing targeting of future investments in energy reduction and understanding the effectiveness of previous investments. The forecasting model is a major step towards the creation of an expert system, capable of predicting the most energy efficient settings to apply across a range of circumstances, ultimately saving valuable resources.
"Working closely with Hartree Centre's Data Science team has accelerated our understanding of business data analytics and given us confidence to take the first steps toward creating machine learning techniques to aid efficient operation of our business."

David Stevenson, South West Water
"With the new analytical tools and guidance we received from the Hartree Centre team, South West Water will be able to produce performance enhancing recommendations for each of our operational assets."

Bob Trivett, South West Water
Join Newsletter
Provide your details to receive regular updates from the STFC Hartree Centre.