A cognitive revolution for children's healthcare
In a ground-breaking collaboration with the Hartree Centre, Alder Hey Children's Hospital is harnessing the power and potential of IBM Watson cognitive computing technology to personalise healthcare and enhance the patient experience.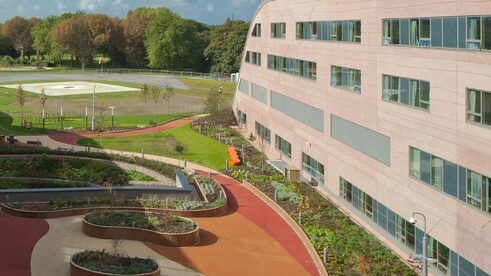 Challenge
Cognitive computing – where systems can be "trained" to reason and draw conclusions similarly to humans – offers transformational benefits for every sector. Healthcare is just one high impact example where cognitive computing could be used to extract more value from data. Based in Liverpool, Alder Hey Children's Hospital treats over 275,000 children and young people each year. Renowned for its commitment to clinical excellence and patient experience, the hospital is now driving to become the UK's first 'cognitive hospital' – where state-of-the-art computing technology can be used to enhance the patient experience. One example would be to answer patients' questions and minimise their anxieties before they arrive for treatment. In partnership with the Hartree Centre, Alder Hey is now turning aspiration into reality.
Approach
Development has begun to integrate cognitive computing into the hospital, in the shape of IBM Watson, the world's first commercially available cognitive computing system. Working closely with the Alder Hey team, cognitive and data experts from the Hartree Centre are tailoring and training Watson to the hospital's needs. The first step involves the collation of new and existing data to enable Watson to understand how the hospital works, and what questions patients would usually ask about their visit, to develop its own knowledge base. The result will be a hospital that dovetails world-renowned clinical facilities with leading-edge cognitive computing capabilities to set new standards in smarter, more streamlined healthcare delivery.​
Benefits
By putting patient engagement at the heart of their treatment in a new and unique way, the project is providing a fresh template for the future of healthcare. Through the cognitive hospital project, the Hartree Centre is forging a path for more personalised treatment, enhanced health outcomes, increased patient satisfaction and significant cost savings. From quicker identification of clinical trends to monitoring admission patterns to aid planning, the potential is limitless. At Alder Hey Children's Hospital, the initial focus is on making medical treatment a less daunting prospect for children and their parents/carers. By providing information and reassurance via apps and avatars, this project is just one example of how cognitive computing is set to result in happier, healthier children.​​​
"This is an unprecedented opportunity to transform working practices in healthcare and enable doctors to spend less time on paperwork and more time with patients."

Iain Hennessey, Alder Hey Children's Hospital​
Join Newsletter
Provide your details to receive regular updates from the STFC Hartree Centre.