Hartree Centre publishes highlights report 2023
Supporting UK businesses with digital technologies, from artificial intelligence (AI) to quantum computing.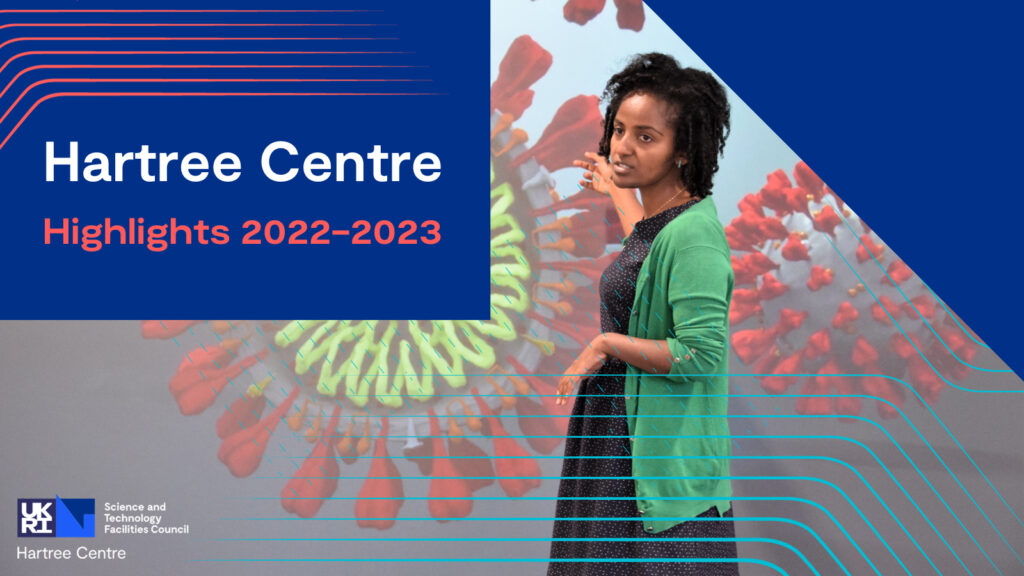 The first edition of our new report illustrates the breadth of businesses we have supported over the last year, to develop solutions that will benefit our lives and the economy.
From supporting autistic children to creating digital twins for climate resilience, multiple businesses are exploring the adoption of digital technologies wiht us to transform their productivity and tackle real world challenges.
The Hartree Centre Highlights Report 2023 provides a review of the past year. It underlines how innovation, collaboration, and strategic partnerships remain key to its mission to boost competitiveness through digital technologies.
Solving real-world challenges
Located at STFC's Daresbury Laboratory, at Sci-Tech Daresbury in the Liverpool City Region, the Hartree Centre is home to some of the UK's most advanced supercomputing experts and technologies.
Backed by strategic partnerships with industry leaders such as IBM, Atos and the University of Liverpool, it provides a low-risk environment where businesses can accelerate the development of new products to improve our lives.
Over the past year, these sectors have included:
health and social care
transport and logistics
environment and climate resilience
engineering
new materials discovery
Case study: supporting the learning and development of autistic children
We worked with Autsera, a game studio that helps autistic children with social communication through educational games.
The app, EmoGami, asks children to match emotions with facial expressions through over 800 puzzles across 10 difficulty levels. Autsera needed a way to quantify and track a child's journey and present this information to parents, carers and teachers in an accessible, digestible format.
Our data science team carried out a statistical analysis of anonymised data from app to provide a new way to measure and compare a child's performance over time.
The team then went on to design a user-friendly dashboard that uses simple charts to show a child's progress and highlight the emotions they can successfully identify in facial expressions.
Case study: digital twinning for climate resilience and public safety
We are collaborating with the Climate Resilience Demonstrator (CReDo) to improve the reliability of critical services during extreme weather.
This partnership aims to address disruptions in public services caused by extreme weather events, such as medical equipment failures and communication breakdowns with emergency services.
We are providing data engineering and expertise to develop a digital twin proof-of-concept within CReDo, demonstrating secure information sharing across sectors to mitigate the impact of flooding on essential service delivery.
Digital twins can empower organisations with timely information, helping them make informed decisions and ensure the resilience of their infrastructure, ultimately enhancing public safety.
Collaborating for sustainable energy
We are collaborating with national and international partners to drive innovation in sustainable energy.
Of particular note is its collaboration with the US National Laboratories, in the development of an exascale-ready modelling and simulation environment for rapid prototyping of nuclear fusion powerplants.
This work strongly aligns with our collaboration with the UK Atomic Energy Authority (UKAEA). Through this collaboration, it is accelerating the vital mission of developing sustainable fusion energy and de-risking the adoption of pre-exascale and exascale computing for UK industry.
Fusion energy is one of the most significant scientific challenges ever tackled, and these collaborative efforts highlight a firm commitment to driving innovation in sustainable energy, and supporting the UK's net-zero goals.
Empowering UK business innovation
The highlights report also highlights the success of our flagship programme, the Hartree National Centre for Digital Innovation (HNCDI), a five-year, £210 million collaboration with IBM.
HNCDI plays a pivotal role in supporting collaborative research and development projects, delivering training, and providing support to businesses eager to adopt new technologies and explore new markets.
As of May 2023, HNCDI had a total of 66 active projects across a diverse range of industrial sectors, from aerospace and security, to the environment.
Case study: using AI to map the risk of flooding
Mapping the risk of climate events requires the analysis of comprehensive datasets, usually done through a time-consuming, semi-manual process.
Through HNCDI, the team developed an AI machine learning algorithm, through which they were able to speed up the process of identifying past and current flood events using satellite data.
As a result, the team developed a platform that can map climate events and improve the resilience of UK infrastructure, enhancing the capability to address damage and prepare crisis responses.
Expanding regional support across the UK
Under HNCDI, we have also established a network of small and medium-sized enterprises (SME) engagement hubs across the UK.
Hartree Centre SME hubs were set up to enable regional SMEs across the UK to adopt advanced digital technologies to their boost their competitiveness and growth.
Cardiff University, Newcastle University, and Ulster University have each received £1.5 million to support and enable their local SMEs to upskill and unlock their potential through digital transformation.
Next generation digital experts
Last year, we delivered 30 application-focused courses to 275 people across a wide range of industries.
These courses enable individuals, businesses and organisations to explore and take advantage of digital technologies, from supercomputing to data science, providing the skills needed to thrive in a digital economy.
Delivered in collaboration with its globally recognised partners such as NVIDIA, IBM and Atos, these courses:
open up the potential of digital technologies to new audiences
upskill UK industry
train our next generation of digital experts
Meaningful impacts
Kate Royse, Director of the STFC Hartree Centre, said:
As I reflect on my first year as Director at the Hartree Centre, I've witnessed the valuable impact of our work in advancing digital technologies for UK industry.

Digital innovation has the power to transform industries and drive growth by improving performance and productivity, creating solutions that make the world a better place.

What sets the Hartree Centre apart is our unwavering commitment to translating these technologies into tangible solutions that deliver meaningful societal and economic impact for UK industry, whether that's accelerating drug discovery to creating digital twins for climate resilience.

Crucially, our strong collaborations with industry leaders like IBM, Atos, and Unilever, coupled with extensive academic partnerships, are enabling us to support and tap into a wealth of expertise.

Together, we are enhancing the digital skills of the UK workforce, and making digital technologies more accessible to organisations and businesses of all sizes.

Our achievements are a testament to the dedication and passion of the Hartree Centre team, as it is actively shaping the future of digital innovation in the UK and beyond.
Join Newsletter
Provide your details to receive regular updates from the STFC Hartree Centre.