Climate Resilience Demonstrator (CReDo) Launches Short Film and Demo for COP26
The STFC Hartree Centre is a partner in the Climate Resilience Demonstrator to develop a digital twin across key networks to demonstrate how connected data and greater access to information can improve climate adaptation and resilience.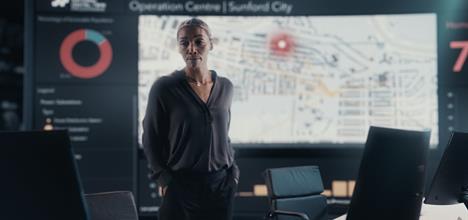 The National Digital Twin programme (NDTp) and partners on the Climate Resilience Demonstrator (CReDo) has announced two exciting public engagement pieces for the UN Climate Change Conference (COP26).
A poignant short film, Tomorrow Today, shows clearly the essential role of infrastructure resilience in the climate emergency, and the interactive app allows users to explore how connected digital twins can help plan for better resilience.
Directed by BAFTA winning director Colin O'Toole (Cowboy Dave, 2018), Tomorrow Today tells the story of Arthur and his grandson Jack facing the unprecedented Storm Ruby, which has the potential to knock out multiple utility services and threaten lives. The film stars Paul Copley (Last Tango in Halifax, Downton Abbey), Sam Bottomley (Ladhood, Wolf Hall), the voice of Sam Spruell (Snow White and the Huntsman), and Hopi Grace (Time, Emmerdale) as Clara, the digital twin engineer. 

What is the Climate Resilience Demonstrator (CReDo)?
CReDo is a pioneering project to develop, for the first time in the UK, a digital twin across key services networks to prov​ide a practical example of how connected-data and greater access to the right information can improve climate adaptation and resilience. CReDo will develop a digital twin across energy, water and telecoms networks to improve climate resilience across infrastructure.
Digital twins are already having a profound impact on businesses and society and CReDo provides a critical next step – a demonstration of how interoperability between digital twins can unlock further value.
CReDo looks specifically at the impact of extreme weather, in particular flooding, on energy, water and telecoms networks. It demonstrates how those who own and operate them can use secure, resilient, information sharing, across sector boundaries, to mitigate the effect of flooding on network performance and service delivery to customers.​
As a partner in the CReDo project, the STFC Hartree Centre took part in a launch webinar took place on 2 November 2021, represented by Tom Collingwood, Data Engineering Specialist and CReDo Technical Architect, and Robin Pinning, Chief Technology Officer.
"Trying to predict and mitigate the effects of climate change when you can only see a small part of the bigger picture is almost impossible, and I'm excited to have a key role in steering the technical delivery of such a challenging and ambitious project, helping industries build a more joined-up view of how our national infrastructure could be impacted in the coming years."

— Tom Collingwood, CReDo Technical Architect | STFC Hartree Centre
​The climate emergency is here now, and connected digital twins are an important part of achieving net zero and climate resilience. Connecting data across three infrastructure networks can provide better insights and lead to better resilience of the system-of-systems overall. Only if we come together to securely share data across sectors can we plan a smarter, greener, more resilient built environment.​
Join Newsletter
Provide your details to receive regular updates from the STFC Hartree Centre.