Exploring early benefits of the Hartree Centre to UK industry and economy
An independent baseline impact evaluation of the Hartree Centre's first four years of operation has been published, exploring the early benefits of our work with industry.
At the Hartree Centre we combine world-class technologies with specialist expertise, using high performance computing (HPC), big data and cognitive technologies to transform UK industry. Covering the first four years of the Hartree Centre's operations from 2013-2017, the Hartree Centre Phase 1 & 2 Baseline Evaluation highlights positive findings from our diverse collaborative projects, the excellence of our people and our strong ongoing partnerships with industry and academia.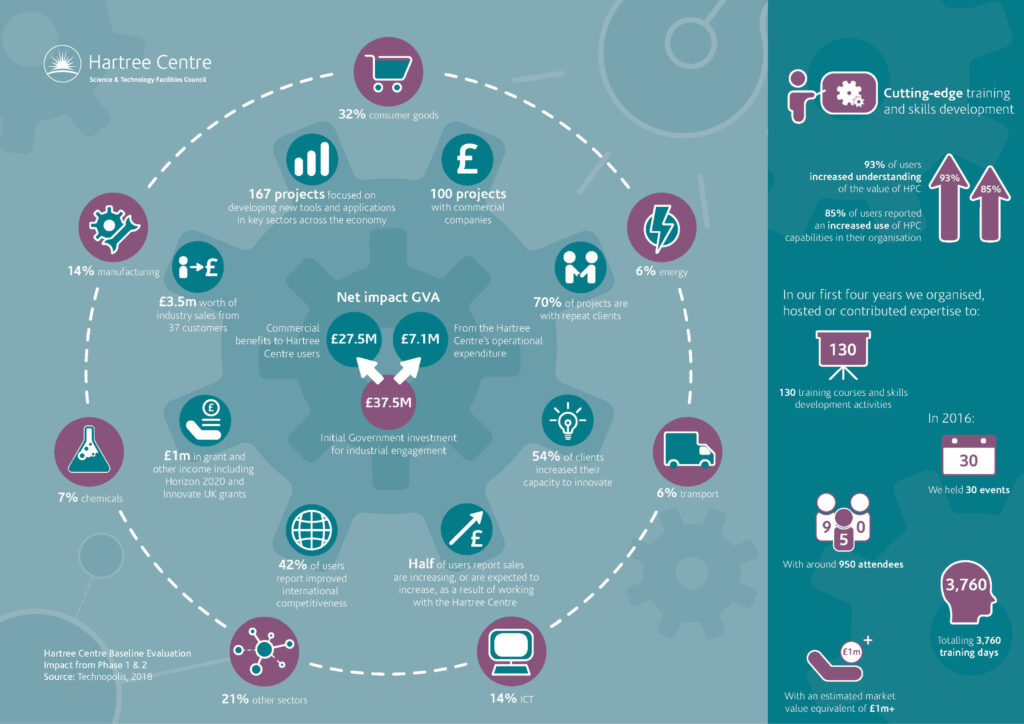 What is impact?
Impact is how we quantify the benefits and outcomes of our specialist expertise, technologies and activities for UK industry, the economy and wider society. Some examples might be new products and services, knowledge sharing, skills development, new technology adoption, business growth or enhanced quality of life.
What we did
In 2017, we commissioned the Technopolis Group to carry out an independent baseline impact evaluation. Through a combination of detailed interviews and surveys with staff, stakeholders, suppliers, academic and industrial users; the group produced a comprehensive report and proposed a future framework to help us continue to measure our impact in future.
Why we did it ​
We evaluate our impact to help us maximise the benefit of our work and to help us direct our future services while also demonstrating value for money from the public investment in the Hartree Centre.
Key fin​dings
​Our impact evaluation shows positive results for a relatively young 'centre of excellence' (Technopolis, 2018). The report provides a clear validation of the value of the Hartree Centre, despite only covering the first four years of operation. Since then, we have continued to grow significantly in expertise, technologies, partnerships and projects. As the full benefits of our early projects become more apparent and continue to grow over time, we expect an even greater proportion of clients to report positive commercial results.
Read our highlights document for a summary of key themes within the report, including:
Powering productivity for the UK economy
An innovation boost for UK industry
From research to revolution
Supporting society alongside business
Championing HPC skills and capabilities
What's next?
Looking to the future, we will build on our current successes by broadening our expertise into new and pioneering areas of digital research and high performance technology and expanding their application for the benefit of UK industry and society. ​
Join Newsletter
Provide your details to receive regular updates from the STFC Hartree Centre.