IBM Research's new UK base – with us
IBM Research has been at the forefront of developing future technology and now they have established their second UK base – at the Hartree Centre.
For over 60 years, IBM Research has been the innovation engine of the IBM corporation. From helping the Apollo space missions land on the moon to creating a technology that can find answers in unstructured data more effectively than standard search technology (aka Watson).​​
Following on from the signing of a Research and Development Collaboration Agreement last year, the first IBM researchers have moved into their new offices at Sci-TechDaresbury. Working alongside colleagues from the Hartree Centre, and those at other IBM Research labs in Yorktown Heights, Dublin and Zurich, they will help develop new tools, algorithms and approaches to big data that will help UK industry take greater advantage of the wealth of insights hidden in that data.
This move will make Daresbury one of only two UK locations with an IBM Research base, alongside Hursley, Winchester.
The initial areas of co-working and collaboration include projects on molecular modelling, genomics, multi-physics and multi-scale modelling, the Internet of Things and uncertainty quantification.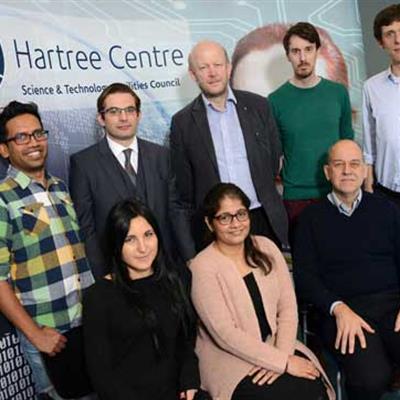 "We're delighted that already we have seven researchers working at Daresbury, with the headcount due to grow significantly in 2016 and beyond. The collaboration between IBM and the Hartree Centre is a rare opportunity to make a significant impact on the UK industrial eco-system and I can't wait to see the IBM/Hartree Centre team grow and engage in this challenge."

Professor Chris Thompson, Technical Lead of the IBM Daresbury team
Join Newsletter
Provide your details to receive regular updates from the STFC Hartree Centre.