Meet our team | Technical Solutions and Operations Group
We spoke to Andrew Smith from our Technical Solutions and Operations Group about his role maintaining our supercomputers like JADE-2 and providing user support and asking him to share what excites him about the future of computing at the Hartree Centre.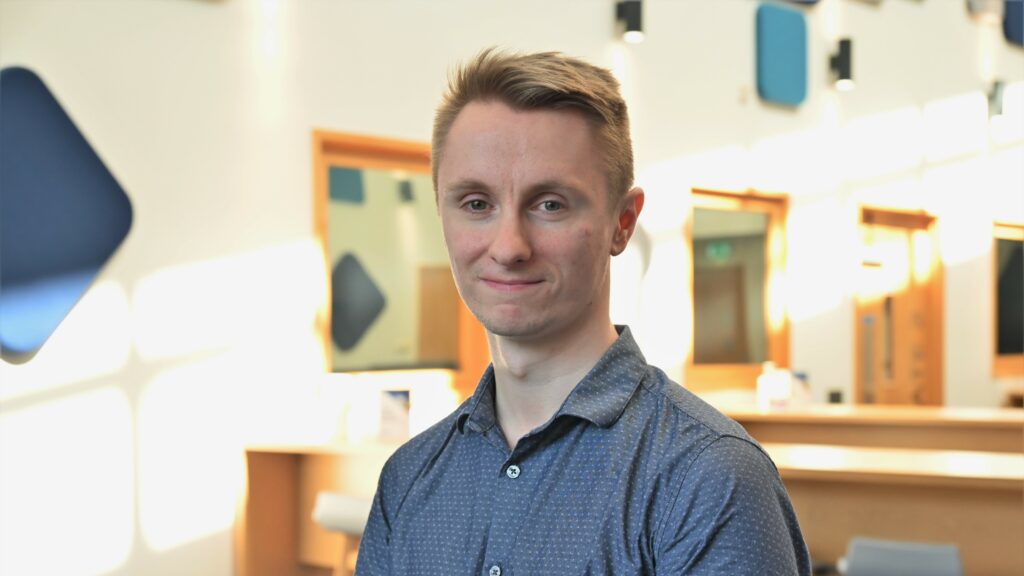 Hello Andrew, it's great to sit down and talk to you! You are a part of the Technical Solutions and Operations Group can you tell us a little bit about your role and what you do?
My role is a Linux HPC Systems Administrator and my team looks after the Hartree Centre's supercomputers, like Scafell Pike, but personally my main focus is JADE-2 (Joint Academic Data science Endeavour). JADE-2 is a supercomputing service hosted at the centre that gives researchers invaluable access to powerful systems that support ground-breaking work in areas ranging from artificial intelligence (AI), therapeutic drug design and energy storage and supply. In our ongoing collaboration with the UK Atomic Energy Authority (UKAEA), to make fusion energy a reality JADE-2 has helped us understand and model plasma flow. JADE-2 is a collaboration with Oxford University and Atos and I do a lot of work around user service and making sure everything is running smoothly. There is a lot of work we do behind the scenes to make sure our supercomputers are running efficiently. We have a lot of maintenance tasks like replacing nodes or recently we updated the machine cooling pipes. 
That sounds like a lot of technical parts you need to keep on top of, what got you interested in science and technology to begin with? 
I have always had an interest in technology as it is my father's field of work, and that lead me to study computer networks and security at university. While I was studying, I learned a bit about Linux and I became aware of a summer student placement using Linux at the Hartree Centre with the Technical Solutions and Operations Group. During the placement I learned about providing customer support for supercomputing services with Linux systems. That was a really enjoyable summer placement as I learned a lot about the system and all the moving components that make supercomputers work day-to-day. After my placement, I stayed in touch with the team and when I finished university I saw them advertising a full-time position I applied for. It is now coming up to four years as a part of the Hartree Centre team and I have learned so much over that time.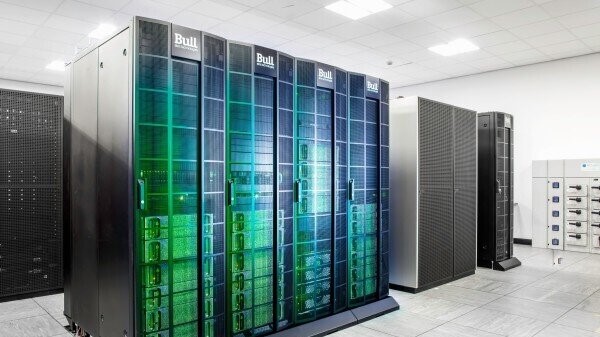 That sounds like an exciting journey, so what does your day-to-day look like now?    
I primarily work on JADE-2 where universities and businesses across the country run various simulations and models. My job is to facilitate that work by installing novel hardware, managing day-to-day maintenance or updating software, so no two days are truly identical. Technology is an ever-changing field and there is a lot of work you need to do not only to remain current but to be on the cutting edge. Being at the forefront of innovation is one of the core principles of the Hartree Centre, as well as helping businesses to explore emerging technologies through projects like the Hartree National Centre for Digital Innovation, (HNCDI). My team also provides support for our users through our technical service desk by answering any queries and assisting ongoing projects however they may need. I am on rota for the technical service desk this week and I find it exciting to learn more about our projects and the research we support.  
It sounds like you have learned a lot at the Hartree Centre and as a part of your team, can you talk a bit about the hands-on experience you have gotten here?
I think my degree and my student placement helped in giving me a good foundation, but nothing could have properly prepared me for all the different aspects of the work my team and I do here on a day-to-day basis. When I started there were several months of shadowing and everything was on stabilisers, which is to be expected as all the systems are live and have very important functions. What was great about this was that the team took the time to really develop my skills and build my confidence, helping me grow in my position so I am now an expert in my niche. I think that is one of the best attributes of the Hartree Centre there is a really strong ethos about upskilling and training, and there is a lot of support for you in your role to do so.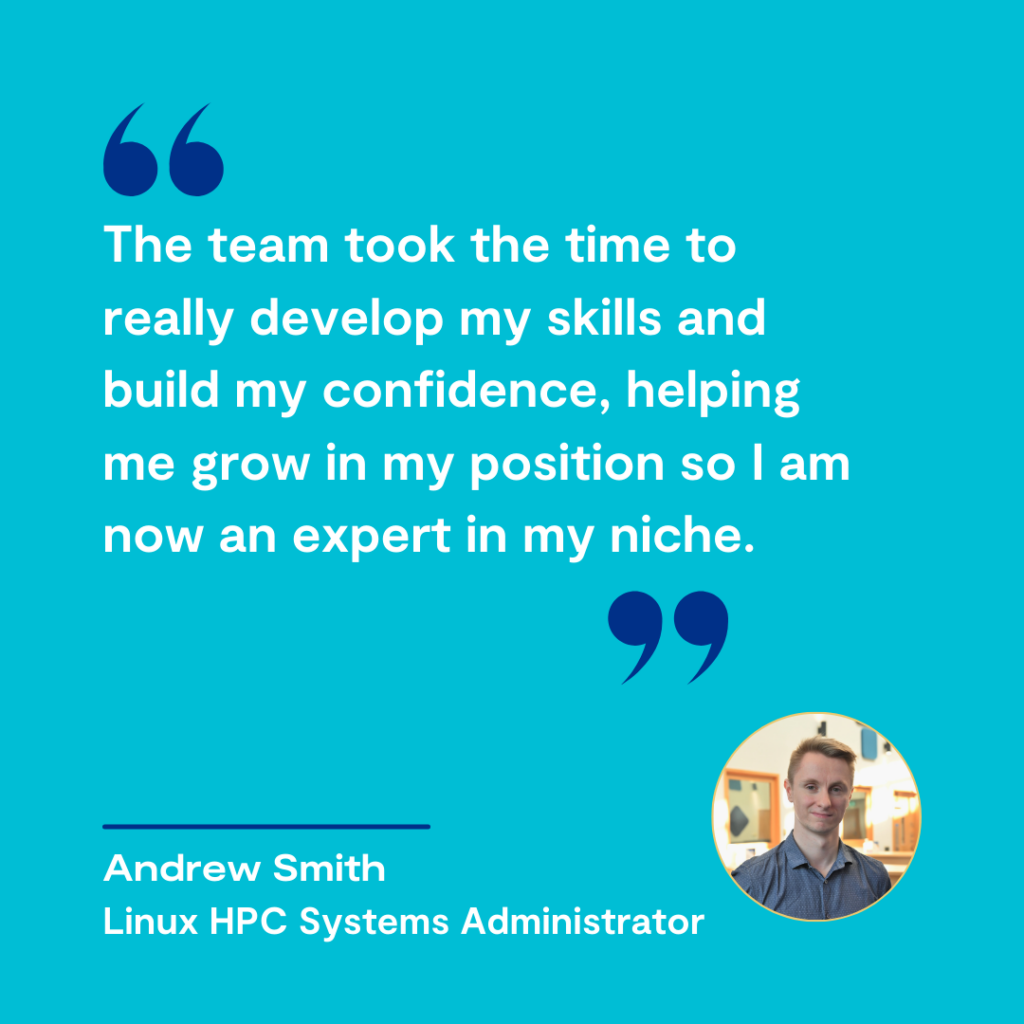 That sounds like you have grown and developed a lot in your role, looking forwards what makes you excited about the future?
One of the things I am really excited about is the new supercomputing centre we are building at the moment and the opportunities a supercomputer will bring. The new system is currently under procurement so the size it will be is not confirmed, but we know it will be at least 20 times faster than our current platform and able to perform up to 100 trillion calculations per second. This will enable the Hartree Centre to expand its capacity and deliver an even better quality, more flexible and secure service to businesses. This machine creates the opportunity for businesses of all sizes to access advanced supercomputing technologies that are normally only available to academia and privately to large-scale businesses.
How do you enjoy spending your time when you're not at work? 
Even though I spend most of my day working with computers I really love PC gaming, when I am relaxing I enjoy getting lost in a good adventure especially anything in the sci-fi or fantasy genre. I am also a really big animal lover until recently, I had an ant colony, and currently I have a vampire crab and two gargoyle geckos who have just laid an egg so fingers crossed there will be a healthy baby gecko soon.
Join Newsletter
Provide your details to receive regular updates from the STFC Hartree Centre.