Meet our team | Administration
We spoke to Hayley King from our Administration team about her role, and what excites her about coming to work everyday and her journey in working at the Hartree Centre.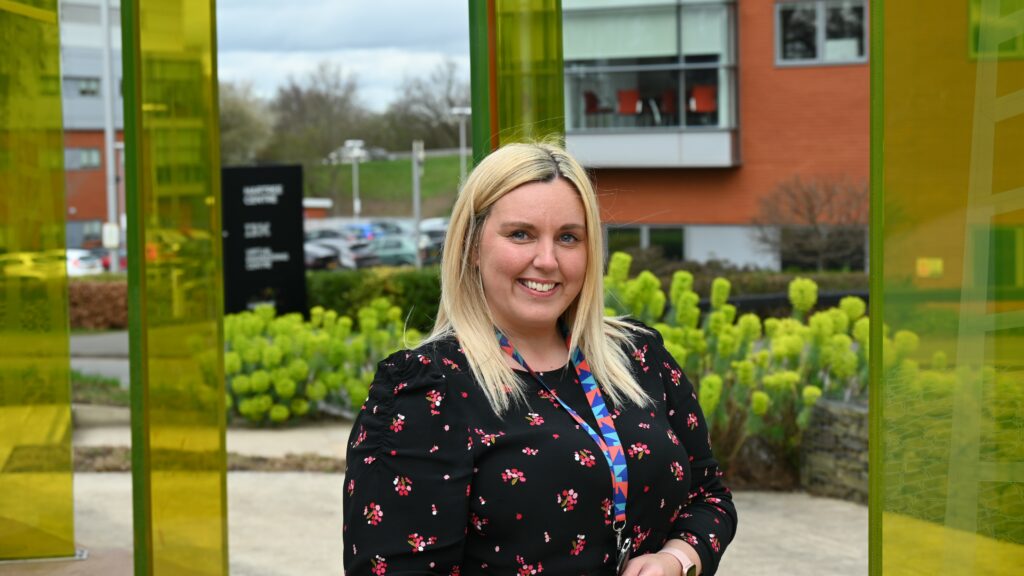 Hello Hayley, thank you for taking the time to talk to us! To start off can you tell us a little bit about what you do at the Hartree Centre?
Well, I work in Administration Support, where I provide organisational support to the Directorate and the centre. At the moment, I am helping organise the attendance of our centre at the International Supercomputing Conference, (ISC), in Germany in a few months. This is one of the largest conferences of its kind and it's where we can share our research through workshops and presentations and also upskill on emerging technologies. To support these logistical needs, I have been introduced to new systems which were part of a steep, but exciting learning curve when I started. I have really enjoyed these new challenges as well as the additional responsibilities I have here, like being a line manager to another member of our administration team. I also really enjoy the atmosphere we've created in our office and how it is a bit of a hub where anyone can come to ask for help and we can really support the whole centre.
Can you share a bit about your experience and what got you interested in science and technology?
It all started in college, where I studied IT and found a love for technology. I became really interested in science and the way companies and research centres can help change the world. This is how I first heard about Sci-Tech Daresbury, as I would love to read stories about what was happening locally, learning about the positive impacts of emerging technologies right on my doorstep. I got a lot of hands-on experience while working at a pharmaceutical company. There I upskilled in logistics and developed the work ethic that I employ day-to-day. Though I developed a lot at my previous company, I have always been interested in working in a field more focused on digital technologies.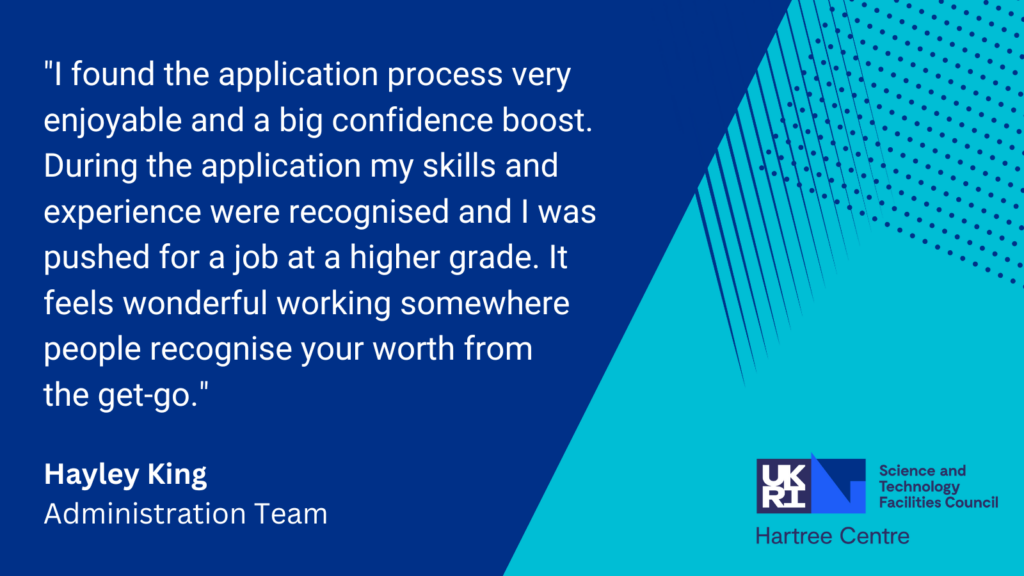 You have recently joined the team, what was your journey like coming to work here? And do you have any advice for someone who might be interested in applying to join the centre?
I joined the centre over six months ago and I found the whole process very enjoyable and a big confidence boost. During the application process, my skills and experience were recognised and I was pushed for a job at a higher grade. The position I am now in has more responsibilities and duties, and it feels so wonderful to be working somewhere people recognise your worth from the get-go. My advice for anyone is to go for what excites you. It was because of my love for science and technology I found out about the Daresbury campus and the Hartree Centre, and always thought that it would be an amazing place to work. So I would regularly check for job openings and when I saw a position going at the centre I was so excited to apply.
That sounds like a really positive experience, what do you enjoy about day-to-day life in the centre?
One of the things I really like about working at the Hartree Centre is that no two days are the same. Like any job I do have reoccurring meetings or tasks, but because of the nature of what our centre does, exploring and developing technologies, nothing is the same and that makes each day unique. Currently, one of the big projects I am working on is ISC, I have been working as part of the team organising our presence at the conference. At ISC we will have a booth on the conference floor and present workshops, Birds of a Feather sessions and talks, we will also be sending over a large group from the centre. I have found managing all these moving parts exciting as I have seen my own skills grow throughout.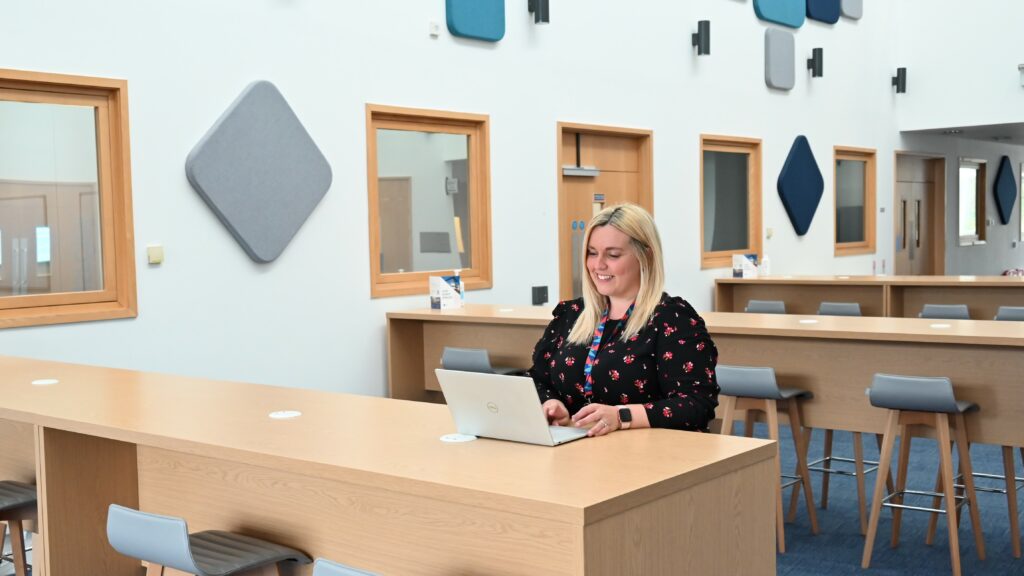 You have talked a bit about the atmosphere working here, what do you think makes working at the Hartree Centre so enjoyable?
I would really have to say the people, everyone here is so nice and friendly it just makes each day so lovely to work here. When I first started and I was learning the ropes everyone was so happy to help. They would go out of their way to make the transition easier and explain the background of different projects I was working on. I have really enjoyed learning about all the projects happening at the Hartree Centre. It has been really exciting to learn more about Hartree National Centre for Digital Innovation (HNCDI) and Climate Resilience Demonstrator (CReDo) and seeing the positive real-world impacts they have. On top of all this, because I work so closely with the Directorate, I can see how much they genuinely care about everyone who works here and how they want to grow the centre sustainably and make it an enjoyable place to work. Additionally, I have always loved how you can use science and technology to transform the world for the better, and it feels wonderful to be a part of that in any way.
How do you enjoy spending your time when you're not at work?
Since I spend a lot of my time organising other people, I really enjoy getting lost in other worlds whether they are in movies or games, any story that can really capture your imagination. I have a PlayStation and I am a big gamer, I play a lot of historical-themed games, or ones that are goal-orientated. I also am a bit of a movie buff and enjoy all sorts of films, but as you probably can guess I do love a good bit of sci-fi.
Join Newsletter
Provide your details to receive regular updates from the STFC Hartree Centre.